Let the Sky Fall (Sky Fall #1) by Shannon Messenger. 2013. Simon Pulse. Goodreads.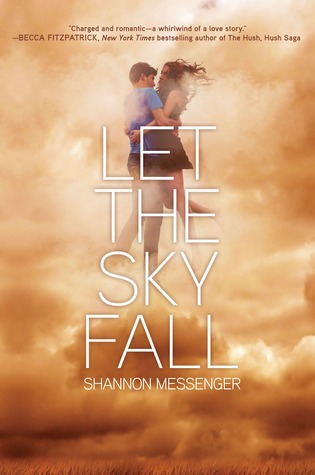 Vane Weston should have died in the category-five tornado that killed his parents. Instead, he woke up in a pile of rubble with no memories of his past – except one: a beautiful, dark-haired girl standing in the winds. She swept through his dreams ever since, and he clings to the hope that she's real.

Audra is real, but she isn't human. She's a sylph, an air elemental who can walk on the wind, translate its alluring songs, even twist it into a weapon. She's also a guardian – Vane's guardian – and has sworn an oath to protect him at all costs.

When a hasty mistake reveals their location to the enemy who murdered both their families, Audra has just days to help Vane unlock his memories. And as the storm winds gather, Audra and Vane start to realize that the greatest danger might not be the warriors coming to destroy them, but the forbidden romance growing between them.
Let the Sky Fall is a contemporary fantasy romance that will make you wish you could fly.
This was a really fun read that took me into a new world of fantasy elements. Van thought he lived a normal high school life until Audra started showing up. Audra was broken, and Vane was hilarious. They made the perfect pair. The sexual tension was goooood.
I was frustrated with parts of the story because I was inpatient to find out what was going on, but by the end I was satisfied enough. I had an issue with a little part of the back story, but it was tiny compared to how much I enjoyed this book.
If you like young adult fantasy romance then Let the Sky Fall is the book for you.
Content Ratings: highlight between ( ) for details
Sexual: mild ( kissing, teenage boy thoughts )
Language: mild ( some h*** and d*** )
Violence: moderate ( murder, fighting, injury )
BOOKS BY SHANNON MESSENGER
As an Amazon Affiliate I receive a small portion of sales when you click then make a purchase from Amazon links on my blog.