On the Fence by Kasie West. 2014. HarperCollins. Goodreads.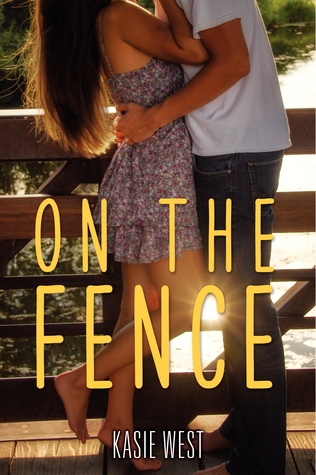 For sixteen-year-old Charlotte Reynolds, aka Charlie, being raised by a single dad and three older brothers has its perks. She can outrun, outscore, and outwit every boy she knows—including her longtime neighbor and honorary fourth brother, Braden. But when it comes to being a girl, Charlie doesn't know the first thing about anything. So when she starts working at chichi boutique to pay off a speeding ticket, she finds herself in a strange new world of makeup, lacy skirts, and BeDazzlers. Even stranger, she's spending time with a boy who has never seen her tear it up in a pickup game.
To cope with the stress of faking her way through this new reality, Charlie seeks late-night refuge in her backyard, talking out her problems with Braden by the fence that separates them. But their Fence Chats can't solve Charlie's biggest problem: she's falling for Braden. Hard. She knows what it means to go for the win, but if spilling her secret means losing him for good, the stakes just got too high.
Charlotte Reynolds, or Charlie, was the only girl in the house. She had three big brothers and only her dad since her mom passed away when she was very young. It's funny to hear how much she's a tom-boy. She was a big time sports player. Even though I didn't grow up playing sports I still related to this uncomfortable high school girl.
At the first of summer Charlie got a ticket for speed driving. Her dad was one of the policemen in the city and told her he wouldn't get her out of it this time. She had to get a job to pay off the ticket. I loved all the things she learned while working. Seeing her be exposed to more girl things than the guy stuff at home was fun.
Charlie's backyard neighbor Braden came to visit her family all the time. They were the same age and grew up together. She still felt like one of the guys with him around until some things started to change. This was such a fun read!
I read the beginning of On the Fence a few days before my Brain Tumor Surgery then finished the book a few weeks after. Some people might think it's crazy to try and read a book after brain surgery, but that's what I needed! Reading teen fiction makes me happy. A few days after surgery was the first time I tried to read. It was so hard at first. I would need a few minutes just for one page or half a page. But I got better and was happy to read this story. Thank you Kasie West for your great book! It brought fun and happiness to my life.
Content Ratings: highlight between ( ) for details
Sexual: mild ( kissing )
Language: none
Violence: none
BOOKS BY KASIE WEST
As an Amazon Affiliate I receive a small portion of sales when you click then make a purchase from Amazon links on my blog.