The Murder Complex (The Murder Complex #1) by Lindsay Cummings. 2014. Greenwillow Books. Goodreads.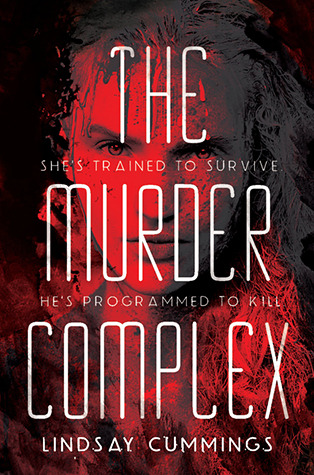 An action-packed, blood-soaked, futuristic debut thriller set in a world where the murder rate is higher than the birthrate. For fans of Moira Young's Dust Lands series, La Femme Nikita, and the movie Hanna.

Meadow Woodson, a fifteen-year-old girl who has been trained by her father to fight, to kill, and to survive in any situation, lives with her family on a houseboat in Florida. The state is controlled by The Murder Complex, an organization that tracks the population with precision.

The plot starts to thicken when Meadow meets Zephyr James, who is—although he doesn't know it—one of the MC's programmed assassins. Is their meeting a coincidence? Destiny? Or part of a terrifying strategy? And will Zephyr keep Meadow from discovering the haunting truth about her family?

Action-packed, blood-soaked, and chilling, this is a dark and compelling debut novel by Lindsay Cummings.
I LOVED reading The Murder Complex! I was afraid it would be too violent for me to handle, but it wasn't. If you could handle reading the violence in The Hunger Games by Suzanne Collins then you can handle this.
The world was full of fighting. Most of the people sounded like violent idiots who no longer cared about lives. There were some that did care and tried to avoid fighting.
This is written from two characters' Point Of View: Meadow and Zephyr. My favorite thing was all of Zephyr's fake words instead of cussing. That made me laugh. I liked him from the beginning. Meadow was one tough chick. Wow. I wouldn't mess with her. She grew in a way that made me like her tones by the end.
Book 2: The Death Code has come out so I must get it! If you love reading Action Dystopian then you'll have a blast reading The Murder Complex!
Content Ratings: highlight between ( ) for details
Sexual: mild ( mention of prostitution )
Language: mild/moderate ( he-19, da-8, a-7, God-4, Bit-1 )
Violence: moderate/heavy ( attacks, murders, abuse, hint at a girl's sexual abuse )
BOOKS BY AUTHOR
As an Amazon Affiliate I receive a small portion of sales when you click then make a purchase from Amazon links on my blog.


Here I am finally getting to meet Lindsay Cummings, the author. She is so much fun and the sweetest!