P.S. I Like You by Kasie West. 2016.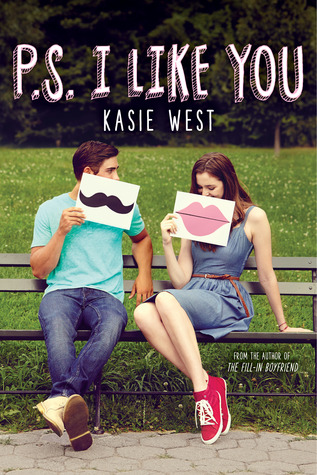 Signed, sealed, delivered… While spacing out in Chemistry class, Lily scribbles some of her favorite song lyrics onto her desk. The next day, she finds that someone has continued the lyrics on the desk, and added a message to her. Intrigue!
Soon, Lily and her anonymous pen pal are exchanging full-on letters — sharing secrets, recommending bands, and opening up to each other. Lily realizes she's kind of falling for this letter writer. Only who is he? As Lily attempts to unravel the mystery, and juggle school, friends, crushes, and her crazy family, she discovers that matters of the heart can't always be spelled out…
Kasie West brings irresistible wit, warmth, and sparkle to this swoon-worthy story of love showing up when you least expect it.
I love all of Kasie West's books! When you find an author that writes in the style that you love, you need to read all of their books! I get excited just hearing when she has another book coming out.
The way that Lily shares messages with someone she didn't know is a little out of the ordinary these days, but that just made it more fun to read. I like how Lily finds out the the new friend is a guy. The ideas of this happening in real life was cute! Stories like this keep me up late at night, completely addicted.
If you love clean teen romance novels then you must read ALL of Kasie West's books! They're so wonderful! Escape into a funny and adorable love story in P.S. I Like You.
Content Ratings: highlight between ( ) for details
Sexual: mild ( kisses )
Language: none
Violence: none
SOME BOOKS BY KASIE WEST (click the book to view on Amazon)
As an Amazon Affiliate I receive a small portion of sales when you click then make a purchase from Amazon links on my blog.